XAMPP (Short for cross-platform, Apache, MySQL, PHP, and Perl) is an open-source application that aids in the installation of Apache, MariaDB and several other programs. It is most commonly used for web development on a local server hosted directly from your computer to test out websites before applying changes to the live site. The newest version of Xampp comes with Maria. If I should update from the old Xampp to the newer version, I have MySQL databases. Take a look at MariaDB versus.
17 Nov 2019
The latest version of XAMPP contains MariaDB instead of MySQL.
But MariaDB is not 100% compatible with MySQL and can be replaced with the "original" MySQL server.
Requirements
Windows
The latest XAMPP for Windows v.7.1+ (64-Bit)
The latest Visual C++ Redistributable Packages,
Administrator privileges to restart Windows services
Backup
Backup the old databases into a SQL dump file (without the system databases)
Stop the MariaDB service
Rename the folder: c:xamppmysql to c:xamppmariadb
Installation
Download MySQL Community Server 8.x (64-Bit) from: https://dev.mysql.com/downloads/mysql/
Scroll down to Other Downloads: and click Download.
Click the link: No thanks, just start my download
Create a new and empty folder: c:xamppmysql
Extract ZIP archive to: c:xamppmysql
Create a new file: c:xamppmysqlbinmy.ini and copy this content:
Initializing the data directory
Important: Don't skip this step!
Start the MySQL service (in your XAMPP Control Panel)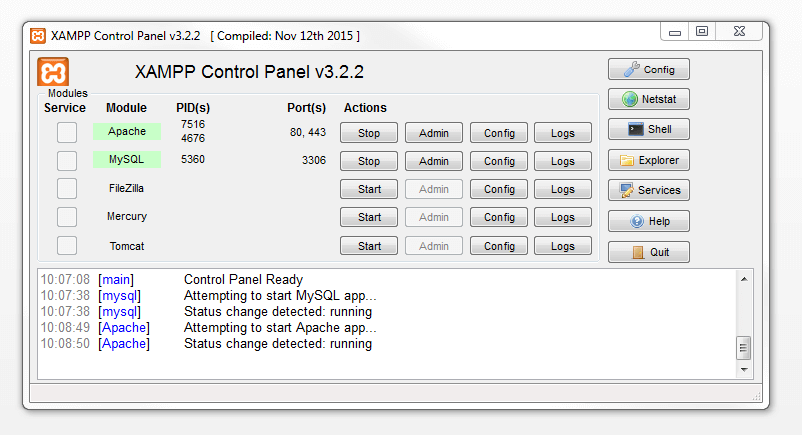 Data restore
Import the SQL dump file into the new database.
Done.
Known issues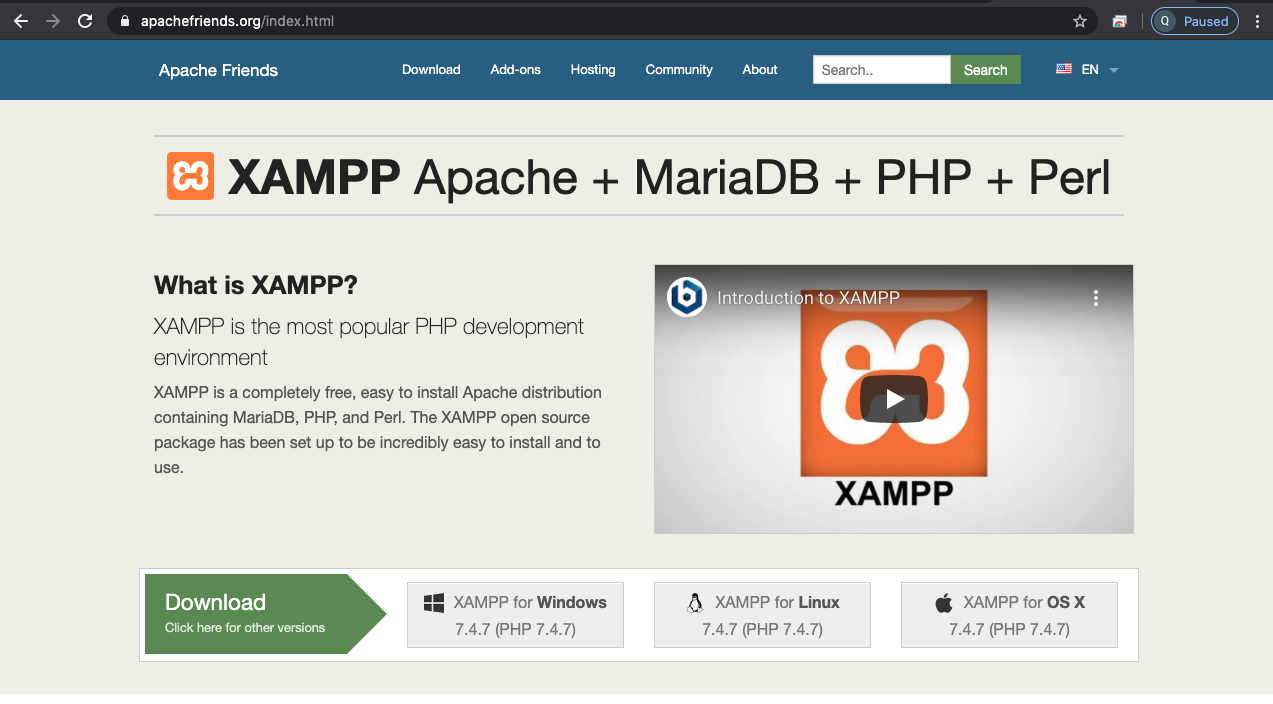 Error: Authentication plugin 'caching_sha2_password' cannot be loaded

MySQL 8 uses caching_sha2_password as default authentication plugin.
Please follow the instructions (from above) and it should not happen.
Add the command line option: –default-auth=mysql_native_password
Read more: Connecting MySQL - 8.0 with MySQL Workbench

Error: mysqldump: Got error: 2026: SSL connection error: error:00000000:lib(0):func(0):reason(0) when trying to connect

Add the [client] ssl-mode=DISABLED option to your my.ini file

XAMPP control panel error: MySQL shutdown unexpectedly.

Make sure you have installed the 64-bit version of XAMPP and MySQL.
Make sure that no other MySQL server is already running on the same port (3306).
Try to run xampp-control.exe as administrator
You might forgot to initialize the data directory.
Some MySQL versions are not compatible with the XAMPP control panel.
Try to start mysqld.exe from the console: c:xamppmysqlbin>mysqld.exe
Try to delete the ibdata1 file

I can't start or stop MySQL using the XAMPP control panel button.

Make sure you have installed the 64-bit version of XAMPP and MySQL.
In the last posts of the blog I have talked about databases again, and we are working again with MySQL (what's new in MySQL 8) and MariaDB. Some weeks ago I had the need to update part of my thesis, which implies (because of the availability) to have portable MySQL or MariaDB. So, I'll tell you how I got it.
Back to 2014 I already published a post testing one of the first versions of the MariaDB 10 series database using the installer (in spanish). And it is still a valid method, no matter what version 10.x you download!
Before going on, I would like you to invite to contribute to maintain this blog.
Xampp Apache Mariadb
In the first part, I encaurage you to work with XAMPP and MariaDB as a database, because it is a fork of MySQL with several years going on in their own way.
The XAMPP option
Amazon photo storage cost. If you do not want to complicate your life and you need to save time, the most convenient way is to download the latest version of XAMPP, decompress the content in the unit you like, and access the xampp directory, and activate MySQL simply by running mysql_start.bat which is included in the directory.
Here you have where to download xampp:
Once unzipped, you access xampp directory and have different utilities to start everything:
As you can see, in the content you have avaliable several .bat files as quick links, or maybe, you prefer to start xampp-control where you have a complete pannel for controlling everything under xampp: you can start and stop several services, access to their configuration and more:
Xampp Mariadb Upgrade
How you can check, XAMPP is a very useful and interesting tool, so having a portable MariaDB database server is very fast, accessible and has almost no complications.
I have proceeded to start the database server:
Let's open HeidiSQL (by the way, this is the database admin software I like to use, but I never write an spacific blog post about it) adn let's check what version we are running:
And that's it. Everything s ready for working in a few steps and in a few minutes. I hope this little tutorial have been of your interest, and of course, you have more options if you need a portable database server.
Xampp Control Panel Download
Happy coding!